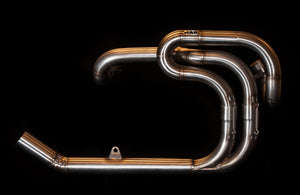 We are aware that a lot of custom builders love to build everything themselves. Therefore we launched BYO MAD. 
This product gets you all the material you need to create your own Yamaha XV design exhaust. 
The following is included:
-1 set of Exhaust flanges
-1 meter of 50.8mm tube
-1 meter of 44,5mm tube
-5 long corners 44,5mm
-7 short corners 44,5mm
-2 springs
-4 hooks 
Note: You only get the same product as the image by adding your own labour and equipment. This order only contains the stainless steel materials that are needed to build your own XV classic. 
Shipping info:
Ship out after ordering within two workdays. Shipping world wide