WHY BUY A MAD-EXHAUST
HAND MADE PRODUCTS
All of our stainless steel exhaust systems are handmade with the highest regard to quality and aesthetics for a variety of brands
STAINLESS STEEL
We make use of the ideal materials - all our INOX exhaust systems are made with 304 or 316 stainless steel. - guaranteed to last a lifetime
HIGH SERVICE
Our service is highly personal and we do our utmost best to guarantee customer satisfaction, we also accept personal custom requests
NEW PRODUCTS IN STORE! CHECK IT OUT
All orders above €400,00 are shipped free around the world!
Whether you need your dream exhaust shipped to France, the USA, Down under or even Japan we make it happen and free of charge
Who is MAD-Exhausts?
We are motorcycle enthousiasts with a weak spot for customizing bikes and improving their aesthetics. One of the most eye-catching elements of most motorbikes is the exhaust. Therefore, we intend to create the best looking, great sounding and sometimes utter MADly designed exhaust systems for a number of all time classic bikes. From a number of available designs to fully custom one-off systems, we aim to deliver the highest quality possible.
Reviews by verified buyers
I am very impressed with the look, quality and craftmanship of the exhaust! I installed the exhaust and everything went without problem. The measurements were perfect. I must say that I am very pleased with the sound my old Honda CB750K makes when I throttle!The idle noice is perfect, neither too much nor too little. Sounds perfectly balanced as they should be! My bike feels like it has finally woken up from a long hibernation.Thanks for the excellent exhaust and good service!

Toni Jokinen, verified buyer
Awesome system, even got some personal customization done to the exhaust to make it fit my caferacer. Love the sound and the looks! Thanks for the great service Daan!

Guillaume, verified buyer
Honda CX 2-1 scrambler
Worth every second of the wait and worth every penny of the cost. These pipes are drop dead gorgeous! Thank you MAD-Exhausts your work is nothing short of art!

USA - Facebook review

Allen, verified buyer
Honda CB750 Sidewinder
Awesome pair of radical pipes! Very happy with how they look in real life. Nicely smooth welds, thick but light stainless steel. Easy to mount but still a narrow fit.
Mufflers are great too, I do recommend you use the heatshields near your legs. With the shields on the pipe it hardly reached temperatures over 30 degrees (celcius).

Daniel, verified buyer
Yamaha XV Classic
Genau und schön verarbeitet Habe mir den Krümmer für meinen Café Racer gekauft. Die Montage war einfach und auch passgenau. Die Optik ist wie Geschmackssache..... Meinen Geschmack trifft die Anlage zu 100%.

Volker, verified buyer
Une équipe a l'écoute et de très beau travail.

Basin, verified buyer
XV750 Cafe Racer - Great service and quality, the exhaust and silencer arrived in perfect condition (and very quickly). The fit is very precise on the bike. The finish is very nice and it sounds great too. Love it - Thanks

Roger Hick, verified buyer
NOTHING LIKE THE ORDINARY!
MAD exhausts is a Dutch fabricator of hand built motorcycle exhausts for whoever wants to upgrade their bike with a high end  quality exhaust system. Nothing like the ordinary. All original designs that make you stand out from the crowd.
Origin
Moto Adonis Design, or MAD, stems from custom bike builder Moto Adonis who has been rocking the custom scene since 2012. Nearly all custom built motorcycles made in the shop are fitted with a one-off MAD exhaust. Check these bikes out via www.motoadonis.com
Brands
MAD Exhausts delivers for every brand, make and model. There are several designs available for BMW, Harley Davidson, Honda, Yamaha and more will be added soon. Check out all our models or inquire for your own one-off special.  
Our products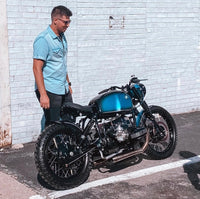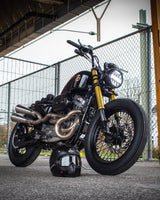 Built by hand
All exhausts are fully handmade. MAD uses high quality stainless steel to make the MAD exhausts come to life.  There are several different product ranges made by MAD.
MAD classic: Our exhausts follow the lines of the engine

MAD Design: Exhausts systems with curves like no other
MAD Performance: Performance increasing exhausts
MAD one-off: Made to order one-off specials